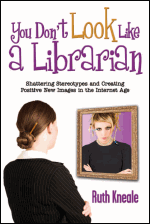 I am simultaneously pleased, nervous, excited, and terrified to announce the forthcoming publication of "
You Don't Look Like a Librarian

Shattering Stereotypes and Creating Positive New Images in the Internet Age
." With a foreword by the fabulous Elizabeth Burns (of
Pop Goes the Library
), it'll be available March 30, 2009 from Information Today, Inc. The companion web site to the book will go public on the official publication date of March 30th.
Writing this book has been quite a journey; what started out just being a frequently-heard comment has morphed over the intervening decade (yes, decade!) into a Thing. This Thing has led me to
talks and articles
, a regular
column
, this blog, and now The Book. I can't say thank you enough to everyone who's stuck with me, answered my surveys, and sent me articles and cartoons and music videos and so on.
Thank you.
Don't expect the comments to stop, though, just with the publication of The Book! There's always more to come!